CONTACT ME IF YOU WANT A SLOT
:
axwell_forum_podcast@hotmail.com
FOLLOW
:
http://www.mixcloud.com/Axwell_Forum_Podcast/
EMAIL IMPORTANCE:
- EMAIL SUBJECT MUST BE YOUR AXWELL FORUM USERNAME
- CLEARLY STATE THE TYPE OF MIX YOU WANT TO DO (AXCLUB/AXBEACH)
- DON'T ASK FOR SPECIFIC DATES, AS I'M NOT A SECRETARY (*each month I will make a new schedule, and the first who responds when I announce a new schedule will get the earliest spot)
- WAIT FOR A REPLY IN WHICH I WILL GIVE YOU FURTHER INFORMARTION AND THE AXBEACH/AXCLUB INTRO
- WHEN DONE WITH YOUR MIX, SEND IT TO ME THREE DAYS BEFORE YOU'RE MIX DATE WITH THE TRACKLIST
This forum has had many discussions in the past few years, concerning various genres of music and many different artist. Each member has his own opinion and tastes and it's all mixed in one big melting pot kept in "General" and "Axwell, Axtone & SHM".
These tastes and opinions are food for a weekly mix: A possibility for each member to express his or herself musical beliefs into one hour!
Sounds like a good idea? If there are enough interested people, I will begin setting up the preparations (intro, artwork ect) so we can do the first episodes.
I want to have two different members with two different mixes each week. I would like to see one member doing a Club mix (Tracks that you would like to hear in a Club when you're going nuts) and a Poolside Mix (With tracks that helps you relax and chillout (Deep House, Tech, Techno anything really, as long as it's poolside suitable!)).
So my question is:
Would you like to do a Club mix or a Poolside mix?
NOTE: You can do a poolside mix this month and a club mix the next month, you're not restricted! It's just a way of keeping things fresh and preventing to have identical tracklist from two mixes in one week.
MIX QUALIFICATIONS
- 55 - 60 minutes long
- Mixed with Software OR Hardware, doesn't really matter as long as there's good music
- In mp3 format, in list enable quality!
- Either a Club or a Poolside mix
- Start with either a Club or Poolside intro:
AXBEACH INTRO:
http://www34.zippyshare.com/v/55803791/file.html
AXCLUB INTRO:
http://www34.zippyshare.com/v/61625631/file.html
PREFERABBLY START YOUR MIX AT 0:22 FROM THIS INTRO PLEASE
Thanks for reading,
Vinelli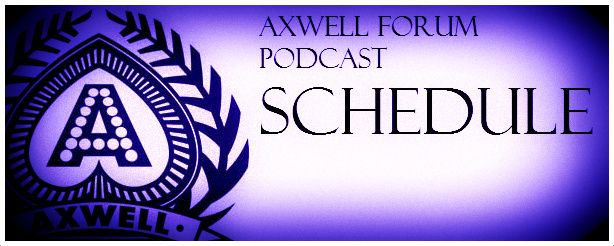 AIRED
Axwell Forum Podcast
#001
(03.08.12)
• Axclub: Vinelli (Vinelli)
• Axbeach: Henrik Ti (Purtnit)
Axwell Forum Podcast
#002
(10.08.12)
• Axclub: Housick (ern1523)
• Axbeach: hedz (hedz)
Axwell Forum Podcast
#003
(17.08.12)
• Axclub: Oli (olivierM)
• Axbeach: Dj Tiago Andrade (tiagoandrade)
Axwell Forum Podcast
#004
(24.08.12)
• Axclub: Rodrigo Marques (RDGM)
• Axbeach: Wazza (Watsa)
Axwell Forum Podcast
#005
(31.08.12)
• Axclub: Arnar Ingason (INGASON8)
• Axbeach: Romain G (RomainG)
Axwell Forum Podcast
#006
(07.09.12)
• Axclub: HEDZ (hedz)
• Axbeach: Dylan Smit (dsmit59)
Axwell Forum Podcast
#007
(14.09.12) + (28.09.10)
• Axclub: Fox (j.fox)
• Axbeach: Axbot 3000
Axwell Forum Podcast
#008
(12.10.12)
• Axclub:] Romain G (Romain G)
• Axbeach: Rodrigo Marques (RDGM)[/b
Axwell Forum Podcast
#009
(26.10.12)
• Axclub: Cam Heine (camheine)
• Axbeach: Fiassko (DCBull)
Axwell Forum Podcast Special:
AFP Best of 2012 Edition
(Mixed by Vinelli) (23-01-13)
TO COME

Axwell Forum Podcast
#010
(31-01-13)
• Axclub: Axbot 3000 (Axbot 3000)
• Axbeach: Vinelli (Vinelli)
CONTACT ME IF YOU WANT A SLOT
:
axwell_forum_podcast@hotmail.com
FOLLOW
:
http://www.mixcloud.com/Axwell_Forum_Podcast/